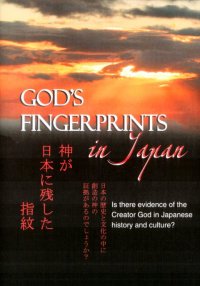 God's Fingerprints in Japan is a documentary to discover if there is evidence of the Creator God In Japanese history and culture. Is there a connection between the Tea Ceremony and Communion? Is it contradictory to be Japanese and a Follower og Jesus? Find out in groundbreaking documentary. Disc is formated for USA and Japan. Japanese and English versions.
God's Fingerprints in Japan
Format: NTSC, Color, Anamorphic, Full Screen, DVD
Region: Region 1 (

U.S. and Canada only.

Read more about DVD formats.)
Number of discs: 1
Rated:
Run Time: 28 minutes
ASIN: B000W1SBVW
God's Fingerprints in Japan
Here's the blurb:

"In this second edition we take a look at the difficulties that the Japanese people face today and how Christianity is beginning to be accepted as a way to find peace in life and as a way back to their ancient roots with their Creator God.

We also find out that there is evidence that Christian influences became embedded in Japanese culture at least 1000 years before western Christianity arrived. The Creator God has never left Japan and is waiting for His Japanese children to "come home" to Him.

This is where hope and healing lie for the Japanese people as well as all of the people groups of the earth. Join us as we prepare to connect to our ancient roots through a relationship with Jesus Christ."
God's Fingerprints in Japan 2 ~ Sequel to the International Tiely Award Winning Documentory